Skip to Main Content
It looks like you're using Internet Explorer 11 or older. This website works best with modern browsers such as the latest versions of Chrome, Firefox, Safari, and Edge. If you continue with this browser, you may see unexpected results.
Physical Therapy Videos
Bob Schrupp and Brad Heineck are two physical therapists with decades of experience and an easy manner presenting physical therapy skills and techniques. View these videos to learn skills in therapy and assessment and evaluation of assistive devices. Click on the link below the sample videos to see the full video library.
Nursing Education in Video
Nursing Education in Video is a unique online collection of videos created specifically for the education and training of nurses, nursing assistants, and other healthcare workers. Don't be fooled by the name of this product--you will find many of these videos helpful for physical therapy courses as well! Instructional videos present basic clinical skills, information about anatomy, and different diseases and conditions. Click on the picture below to be brought to the Nursing Education in Video collection:
Here are a few examples of the titles you will find in Nursing Education in Video. Click on the picture to be brought to the video:
How Do I Access Streaming Media Collections from the ICC Library?
The ICC Library provides access to streaming videos via online subscription database collections.
A majority of ICC Library streaming videos can be found by searching the library catalog. Use the blue box on the ICC Library website or the search bar below. Or directly access the databases using the links provided in this guide or from the streaming media subject menu.
To find the streaming media collection from the ICC Library website visit https://icc.edu/library/library-search/ and see the screenshot below.
Films on Demand
Films on Demand is a cloud-based digital video delivery service allows users to view streaming videos from top producers anytime, anywhere.
You'll find outstanding content—much of it exclusive—from Films for the Humanities & Sciences, ABC News, NBC News, BBC, National Geographic, The NewsHour with Jim Lehrer, Bill Moyers, Shopware, The Open University, A&E, Dartmouth-Hitchcock Medical Center, Fred Friendly Seminars, Cambridge Educational, and many more. Programs from more than 800 producers are included in these comprehensive subscriptions—more than you'll find anywhere else.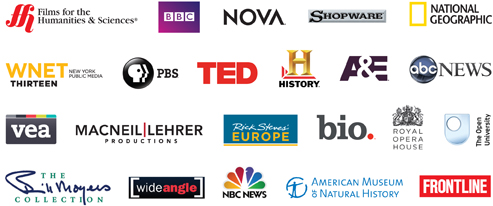 Films On Demand

This link opens in a new window

Films on Demand is a streaming video platform, which features videos on a variety of subjects.

Kanopy

This link opens in a new window

Kanopy offers access to more than 30,000 documentaries, movies, and educational videos from thousands of producers such as Criterion Collection, PBS, Great Courses, Kino Lorber and more.